A Message from Fr. Eric


Greeting all,
I hope this finds you well and you are all managing during this difficult time. Here is a brief update of what will be taking place here at St. Anthony.
Live Video Stream
Until further notice, St. Anthony Parish (Fr. Eric) will be providing a Live Video Stream of Mass and a daily Holy Hour.
Schedule of Live Video Stream below. However, video may be viewed throughout the day and evening at your convenience.

Click the appropriate link below. After the live video stream begins, you may click in the bottom right corner of the video to enable full screen.
Weekend Mass
Sunday: 10:00 AM

Palm Sunday of the Passion of the Lord
April 5, 2020 - click here
Daily Mass
8:00 AM (Monday through Friday, 1st Saturday)

April 4, 2020 - click here
Welcome
Palm Sunday of the Passion of the Lord


A Message from Bishop Foys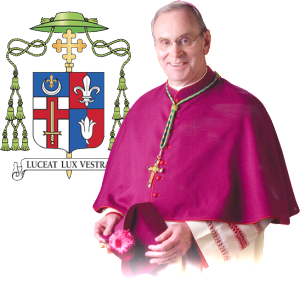 27 March 2020

My dear Friends,

Praised be Jesus Christ! 

During this time filled with such stress and anxiety I want you to know that I hold each of you in my heart and especially in my prayers. We are experiencing things most of us have never experienced before and it is a time of confusion, testing, and pain. Yet through it all, we have the Lord's promise that He will never leave us, never abandon us. (John 14:18) What peace and joy that gives us!

I take this opportunity to thank you for being so understanding and patience with the many difficult decisions I have had to make especially regarding the celebration of the Sacraments, and especially regarding the suspension of the public celebration of the Holy Mass. I know for so many of you this is such a sacrifice, such a cross to bear. In my own meditation these days, I have reflected on how I have taken the celebration of the Sacraments for granted, never imagining that there would be a day when there would be such restrictions placed on us. 

I also want to thank my brother priests and deacons, who have continued to minister to you even amid these difficult times and restrictions. Their love for you is evident in the sacrifices they are also making at this time. I am proud of them and proud to be their Bishop. Please pray for them as they continue to serve you.

Perhaps you have heard the church bells in your area ringing at 3:00pm. On the Solemnity of the Annunciation, 25 March, I asked our priests to ring the church bells every day at 3:00pm, the Hour of Divine Mercy, for 5 minutes. I asked that this be done to demonstrate our solidarity during this time and to call us to prayer, wherever we may be, when we hear the bells ringing. When you hear the bells, I encourage you to stop for a moment and offer a prayer for an end to this scourge that has overtaken us.

As regards the annual Chrism Mass, I am pleased to tell you that I will celebrate the Chrism Mass with our Vicars and Deans on Holy Thursday, 9 April at 10 a.m. in our Cathedral Basilica. While we cannot celebrate this year with all our priests, I have asked each priest to watch the Chrism Mass, which will be live-streamed. I encourage each of you, to the extent possible, to join us in the same way. The Holy Oils will be distributed by the Deans in each of their Deaneries at a later time.

The Mass of the Lord's Supper will be celebrated in our Cathedral Basilica on the same day, Holy Thursday, at 6 p.m. It will be live-streamed. I have asked the priests to join with their brother priests in the various parishes in each Deanery to celebrate the Mass with them. All Holy Thursday services will be celebrated at the same time throughout the Diocese at 6 p.m. Our Deans will coordinate this effort.

Good Friday services will be celebrated at our Cathedral Basilica at 3 p.m. This will be live-streamed. At the same time, in various parishes, I have asked our priests to gather to celebrate the Good Friday Service. 

The Easter Vigil will be celebrated and live-streamed at our Cathedral Basilica at 8:30 p.m. At the same time, I again ask our priests to gather at designated Churches in their Deanery to observe the Easter Vigil. 

While the Triduum services can be live-streamed the Holy See has directed that they cannot be recorded for later viewing. 

Easter Sunday Mass will be celebrated and live-streamed at our Cathedral Basilica at 10 a.m. Our priests will celebrate Easter Sunday Mass at their parishes according to the schedule they will determine.

Needless to say, this Holy Week and Easter will be unlike any most of us have celebrated in the past. Yet, we do what needs to be done, to keep everyone safe and at the same time to provide some way for all our faithful to participate, albeit it virtually, in the Holy Week and Easter Sunday Services. I have no doubt that all of us would much rather be together celebrating this most holiest of weeks in our Churches. One day we will, but for now we avail ourselves of those means provided in these very difficult and stressful days.

Yet, we are hopeful and our faith makes us strong. The Lord is in our midst and He will not abandon us. We must keep this truth before our eyes and it will carry us through the dark into the Easter light!

Be assured, my beloved friends, of my daily prayers. Please, pray for me and for our Diocese.

Yours devotedly in the Lord,

Most Rev. Roger J. Foys, D.D., S.T.D.
Bishop of Covington

*****************************************

18 March 2020

My dear Friends,

Praised be Jesus Christ!

We find ourselves in what for most of us will be a once-in-a-lifetime situation with the Coronavirus pandemic. Our lives have been and are being altered dramatically. It is as though every aspect of our lives is being affected and the situation seems to change almost hourly. This is also affecting our faith life, at least in terms of our worship.

We have been following very closely the information that the Center for Disease Control (CDC) has been providing for us. I have also spoken to fellow bishops, have established a Coronavirus task force to study the situation and make recommendations in how we should address it locally, have met this morning with our Deans and Vicars, have asked for and received from almost every pastor their experience and that of their parishioners from this past weekend Masses. Taking all this into consideration and especially having taken it to prayer, the following is our response.
Public weekday and Sunday Masses in every parish church, in every chapel and oratory, in every religious house, in any of our institutions are suspended effective Friday, 20 March 2020. Since the situation is so fluid, this suspension will be in effect until further notice. There are no exceptions to this suspension.
Public celebration of the Sacraments and other public forms of worship are suspended indefinitely. This includes Lenten Penance Services, other Lenten devotions, celebrations of First Holy Communion, Communion Services, etc. Obviously, this is not an exhaustive list.
The Sacrament of Reconciliation (confession) and Anointing of the Sick are permitted on a private basis upon request.
Funerals, burial services, and already scheduled weddings are permitted but attendance must be limited to a maximum of 10 participants. This includes the celebrant.
Parish priests are advised to provide the faithful with Exposition of the Blessed Sacrament for a brief period each day. Attendees are directed to practice social distancing.
All parish office activity is to be suspended for a period of two weeks beginning on Friday, 20 After that date, parish office activity should be limited to a few days a week at most with a minimum number of staff.
All parish meetings of any kind are likewise to be canceled.
All parish socials of any sort are to be canceled. This includes, but is not limited to, fish frys (eat-in or carry-out) and bingo.
All previously published diocesan protocols addressing the COVID-19 remain in force. 

The Eucharist is the source and summit of the Christian life. The other sacraments, and indeed all ecclesiastical ministries and works of the apostolate, are bound up with the Eucharist and are oriented toward it. For in the Blessed Eucharist is contained the whole spiritual good of the Church, namely, Christ himself, our Pasch. (Catechism of the Catholic Church, 1324).

To suspend the public celebration of the Eucharist and other sacraments is the most difficult decision I have ever had to make in my 47 years as a priest and 18 years as a bishop. I make it with a heavy heart and with profound sadness.

I encourage all our faithful to continue to pray at home and to make a Spiritual Communion often. I know many of the faithful will be disappointed and perhaps even angry, at being denied access to the most Holy Eucharist. I don't blame you. I've received numerous messages from people who are distraught that we might have to take this action as well as messages from people who feel we are being negligent in not cancelling everything. This is not an easy time and does not have an easy solution. Decisions must be made on fact and in faith taking into account all of God's people. Human respect cannot play a part in such weighty decisions.

Some people will feel we have not gone far enough, and others will feel that we have gone too far. But given the current situation and with the facts that have been provided to us, it is as though there is no alternative. And if we are going to suspend the celebration of the Eucharist, we cannot then go on in other areas of our pastoral ministry as if there is no change and everything is fine. Everything we do and who we are flows from the Eucharist.

These are difficult and trying times but, with deep faith and sure hope, we will get through them and hopefully better appreciate all the good things the Lord has given us for our journey, the most important of which is His Body and Blood.

Let us keep each other in prayer.

Yours devotedly in the Lord,

Most Rev. Roger J. Foys, D.D., S.T.D.
Bishop of Covington

Fast and Abstinence

Ash Wednesday and Good Friday are obligatory days of fasting and abstinence for Catholics. In addition, Fridays during Lent are obligatory days of abstinence.
For members of the Latin Catholic Church, the norms on fasting are obligatory from age 18 until age 59. When fasting, a person is permitted to eat one full meal, as well as two smaller meals that together are not equal to a full meal. The norms concerning abstinence from meat are binding upon members of the Latin Catholic Church from age 14 onwards.

Lent Page - click here
Mass Times
Weekend Masses:
Saturday: 5:00 PM
Saturday: 6:30 PM (Spanish - 2nd and 4th Saturdays only)
Sunday: 8:00 AM, 10:00 AM

Daily Mass:
8:00 AM (Monday through Friday, 1st Saturday)

Mondays during Advent:
6:00 PM

First Friday Mass:
6:00 PM

Holy Days:
8:00 AM, 6:00 PM
Rosary/Adoration/Stations of the Cross
Recitation of the Holy Rosary:
Saturday: 4:30 PM
Sunday: 7:30 AM, 9:30 AM

Adoration - First Friday: 8:30 AM to 5:30 PM
Benediction 5:30 PM

Stations of the Cross - Friday: 6:15 PM during Lent
(after Mass on First Friday)
Confession
Saturday: 3:30 PM to 4:30 PM

Or by appointment.
Daily Dose
Daily Readings, Saint of the Day, Liturgy of the Hours, and Meditations. Click here!
Laudato Si': On Care for our Common Home
Dismantling of Pro-Life Crosses
2019 Fall Fest Video Slideshow
Reception for Fr. Eric Andriot
Farewell Reception for Fr. Benton
Celebration with Deacon Jim Fortner
Flocknote
Events
Prayer Line
Would you like to submit a prayer request that will be prayed over by members of the St. Anthony Prayer Line? Click here!
Bulletins
Need a bulletin from the last few weeks? Click here!
Office Hours
Church Secretary at Rectory:
Monday: 9:00 AM to 4:00 PM
Tuesday: 10:00 AM to 4:00 PM
Wednesday: 9:00 AM to 12:00 PM
Thursday: 9:00 AM to 4:00 PM
Friday: Closed
Quick News
04/04/20 11:51 am
04/04/20 7:55 am
04/04/20 3:00 am
Blessing of Church Ministries Participants and Reception
School Provides Chocolate for Sailors